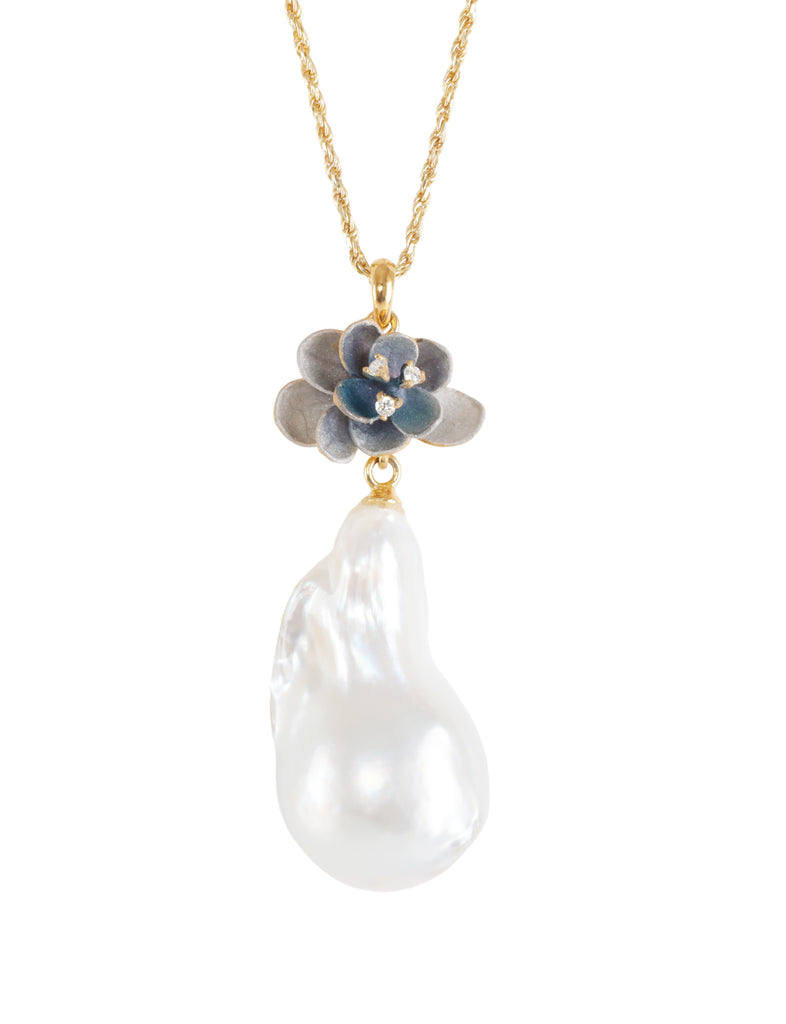 Baroque Pendant in Yellow Gold
$1,950.00
Pendant
18K Yellow Gold 
Diamond 0.03ct total 
Diamond Dust Enamel Technique 
Baroque South Sea 25mm x 14mm 
The delicate floral design is made in 18K Yellow Gold and is hand painted with blue enamel and diamond dust layer by layer. Each layer is fired in a kiln and repeated several times to create depth in colour and that layered delicate sparkle from the diamond dust.  Set into the floral top are 3 round brilliant cut diamonds that compliment the enamelled diamond dust. 
We have paired the floral pendant top with a magnificent Baroque South Sea Pearl. Celebrated for their uniqueness, Baroque South Sea Pearls are individual in their organic beauty and exhibit incredible lustre. The size of this baroque pearl is 25mm x 14mm.
This price is for the PENDANT ONLY. If you would like an additional chain, please enquire with us at admin@zappacostajewels.com 
Our natural pearls have been carefully hand selected. This is an exclusively designed piece by the team at Zappacosta Jewels and has been locally hand made. If you would like to see this one off design piece in person, please visit us in The Strand Arcade, Sydney.